Hi all as I write to you today after a week of fairly rotten weather it's sunny and I really feel that spring is here so of course I'm now looking forward to summer and camping/cycling with you lovely lot.
The update from David our Site Manager is that bookings are going well – we are sharing the field with public bookings again so electric pitches are in demand; booking soon is recommended if that is important to you – however if you are not able to book an electric pitch do contact me because we will ensure everybody has access to what they need by sharing if necessary.
Rally dates are 23/7/21 – 30/7/21 click here for link to rally booking
Here are our Chair Sharon and family modelling the new rally shirts – do check out the facebook chat for more examples, as well as the collage here.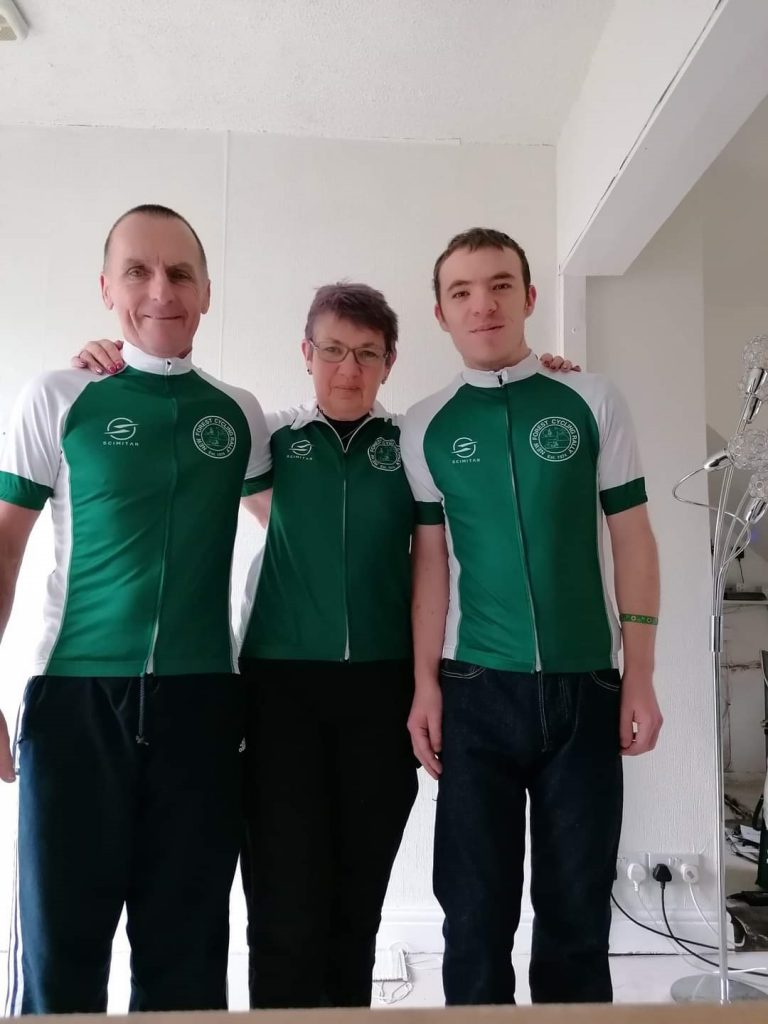 Click here for link to buy rally shirts
The deadline to do this is 28th May please, in order to get them in time for the rally. It will be great to see a lot of us in these.
In other news the barn dance is provisionally booked (Covid restrictions allowing) and the relaxed structure of rides and cycling related events (subject to the ongoing support of our lovely volunteers) is eagerly anticipated – sadly I didn't get a photo of David competing in the bike limbo last year (if you did please put it on facebook). Its fun for everybody with the AGM, bike limbo, cycle skills, yoga, the children's time trials, the picnic and perhaps the new activity coordinators Joy and Anita will have some ideas – will the quiz make a return?
In a sadder update I'm sorry to share with all who knew him that Geoff Clark lost his battle with cancer on 17th February 2021 – Geoff was such a great support to this rally for many years & a great friend to us all. I know you will join me in sending our condolences to his wife Lynn and their family.
I had hoped to get away without mentioning Covid 19 but the recent news seems to be of more uncertainty so I hope that you are taking good care of yourselves in what continue to be very challenging times and of course the Committee and I are very much looking forward to seeing you all in the summer all being well.
Anna
Secretary New Forest Cycling Rally
email: newforestrallycc.org.uk
Data Protection and Email contact.
Your email details are held by me purely to make contact with you regarding the annual New Forest Cycling Event which takes place at Avon Tyrrell. Your information is not used for any other purpose and is never intentionally passed to other people.
In order to update the list of contacts, and in line with data protection, would you please email me back if you wish to be taken off the email list.
Emails are always sent out as a BCC (blind copy) so that your details are kept private. However it is possible that an error can occur and your mail address could inadvertently be visible to others on the list. Bearing this in mind if you wish your mail address to be removed from the list just let me know.